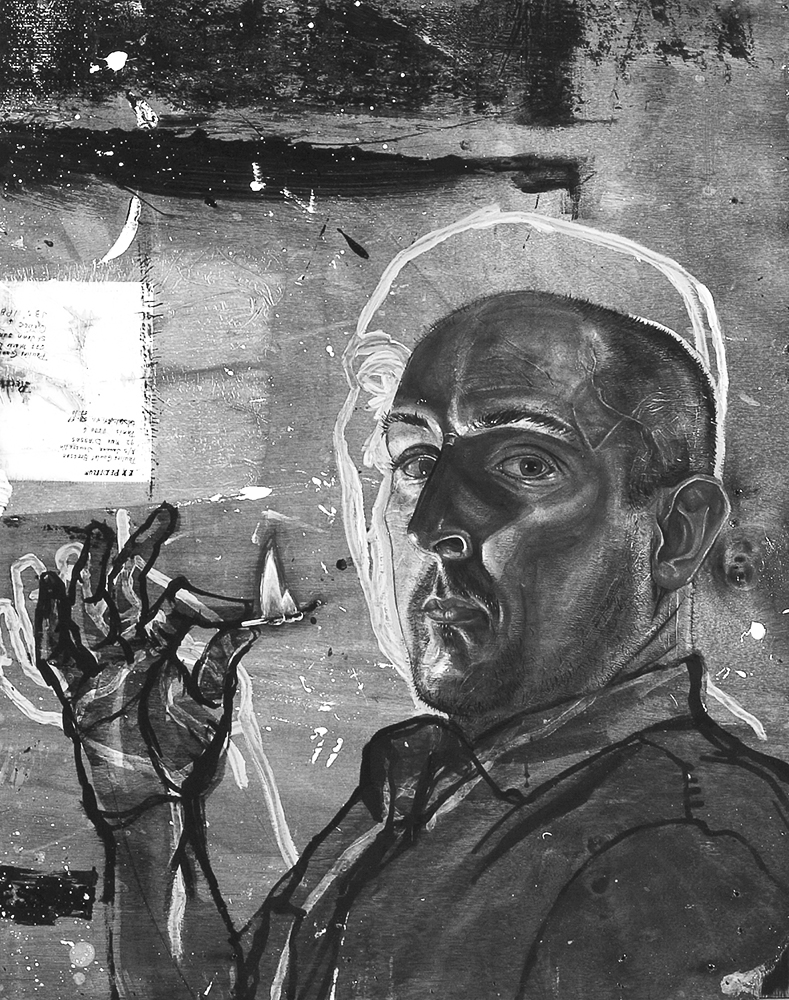 Shop Artist's Full Portfolio
In the current exhibition, Patrick Duegaw enlists a childhood game, Five Lines,where random scribbles are drawn on a blank page to become an inventive jumping-off point. Part cloud-busting, part Rorschach test, this version of the game explores the power of drawing and intent, as interpreted through the epic poem The Twelve Labours of Hercules. The five lines, here drawn on blank 'plates', are transformed into The Trials of the Golden Rat. Produced as lithographs, this series of thirteen images depicts mythical animal-human hybrids in tales of ignorance, manipulation and control, intolerance, hubris, greed; and, conversely, of justice and acceptance. In this series, the original five marks are printed in red ink, in order to emphasize the generative creative process.
—
The individual images that represent my previous work are in fact 'scenes' from a larger concept that I've been exploring for several years. These paintings, created with acrylic, ink, polyurethane and screws, and executed on complex wallboard substrates that were assembled from found and salvaged materials, record various self-constructed environments and their inhabitants. Through these, I've synthesized my background in architecture and construction, stage craft and fine art; the resultant imagery is part of an on-going installation that I have termed the Painted Theatre Project,and, when referencing a specific 'performance', The Still Play. The Painted Theatre Project, which is part installation, part theater production, incorporates detailed two-dimensional characters, props, and sets that replace living thespians, three-dimensional objects, and a stage. Action is implied, rather than actually performed, and dialogue is written, in the form of text pieces that accompany each portrait, rather than spoken. This multidisciplinary investigation provokes a discourse between the inherently documentary properties of painting, drawing, poetry and architecture, and the deliberate ephemerality of performance and storytelling.
In 1990, Patrick Duegaw co-founded Fisch Haus, a multi-disciplinary art facility and the cornerstone of
Wichita's Arts District. He has had group and solo exhibitions in museums including the Wichita Art
Museum, The Marianna Kistler Beach Museum of Art, The Yellowstone Art Museum, and the Ulrich
Museum of Contemporary Art. His work has been placed in many private, corporate, and institutional
collections, including the Ulrich Museum, WAM, The Beach Museum, the Kansas Health Foundation,
and the Emprise Bank Collection; reviewed in Art In America, The Kansas City Pitch, and Review
magazines; and appeared in New American Paintings. He was awarded Wichita's 2019 Outstanding
Achievement, 50th anniversary of the Art Awards; and 'My Reluctant Monster', a short documentary
about his solo exhibition at the Ulrich museum was screened at the Tallgrass Film Festival.
2019 Wichita Arts Council Outstanding Achievement in Art Individual Award
2010 Kansas Arts Commission (KAC) Collaboration Grant (with the Ulrich Museum)
2010 KAC Governor's award runner-up
2006 KAC Fellowship for Painting
2004 Purchase Award; Wichita Art Museum
2001 Ulrich Museum's Betty and Frank Brosius Award
1992 KAC Mini Fellowship
My Reluctant Monster: An Unsolicited Interview with Patrick Duegaw Regarding His Innumerable Anxieties