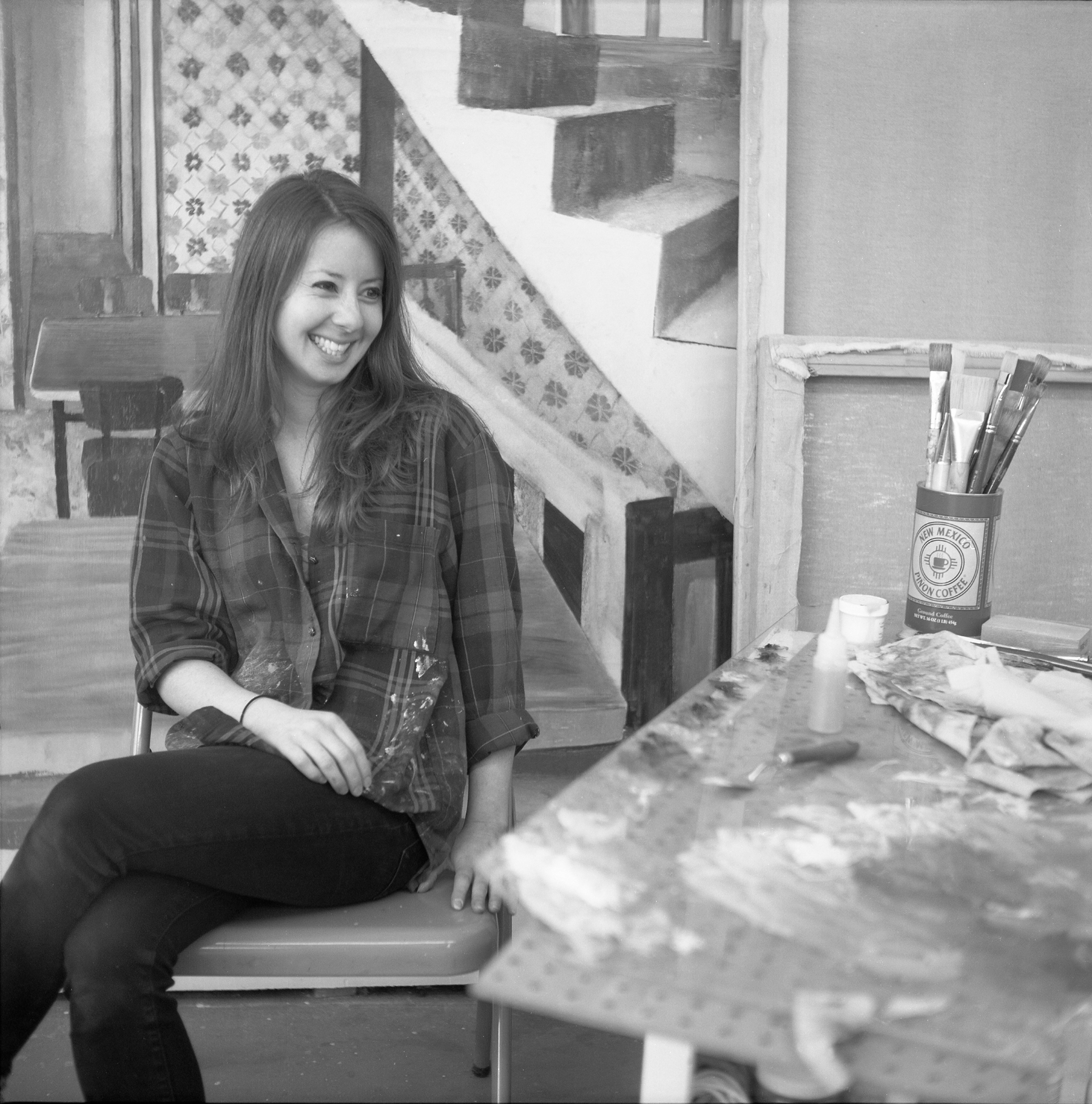 Shop Artist's Full Portfolio
My work responds to the lived, remembered, and imagined histories that emerge from aging buildings, ancient dwellings, and new constructions. The paintings in this exhibit draw from experiences in Africa, France, Maryland, and Wyoming, and were inspired in particular by São Tomé e Príncipe, a small island country off the west coast of Africa where I painted throughout one summer. Many homes were pieced together with found materials, each colorful house a collage that showcased the personality of the family that lived there. After São Tomé, I began to build small cardboard models of collaged photographs as reference for large-scale oil paintings with collapsed planes and shifted perspectives, spaces at once believable and impossible. Without painted figures in my compositions, the viewer becomes the inhabitant, or pathfinder, and can create a more personal relationship to how others may live in, move through, and sometimes abandon, these shelters. Composite architectural details allude to disparate stories between walls, as moments in time and place fuse into one.
Laini Nemett holds an MFA from the Hoffberger School of Painting at Maryland Institute College of Art and a dual BA from Brown University in Visual Arts and History of Art & Architecture.
She has received grants from the Joan Mitchell Foundation, National Endowment for the Arts, Queens Council on the Arts, and Fulbright, and has held residencies at Hambidge, Yaddo, the Joan Mitchell Center, UCross, Jentel, VCCA, and the Klots International Residency in Léhon, France.
Nemett's work has been exhibited in solo and group shows at Kenise Barnes Fine Art, NY; Adelphi University, NY; Guilin Art Museum, China; SACI Gallery, Italy; VisArts Gallery, MD; Platform Gallery, MD; Geoffrey Young Gallery, MA; Leedy-Voulkos Art Center, MO; The Granoff Art Center at Brown University, RI; Ethan Cohen, NY; Rymer Gallery, TN; Prince Street Gallery, NY; George Mason University, VA; Casa das Artes Criação Ambiente Utopias in Africa, and other venues throughout the U.S. and abroad.
She has lectured about her work at Adelphi University, NY; Teatro della Concordia, Monte Castello di Vibio, Italy, SACI in Florence, Italy; University of New Orleans, LA; Maryland Institute College of Art, MD; Pace University, NY; REH Kunst, Germany; Brown University, RI; George Mason University, VA; St. John´s University, NY; and Universidad Autónoma de Madrid in Spain.
Nemett lives and works between Brooklyn and upstate New York, and is Assistant Professor of Drawing and Painting at Union College.