CHRIS BEARDS –
SOLACE – NEW SCULPTURES
PATRICK DUEGAW –
TRIALS OF THE GOLDEN RAT – NEW LITHOGRAPHS
Through OCTOBER 18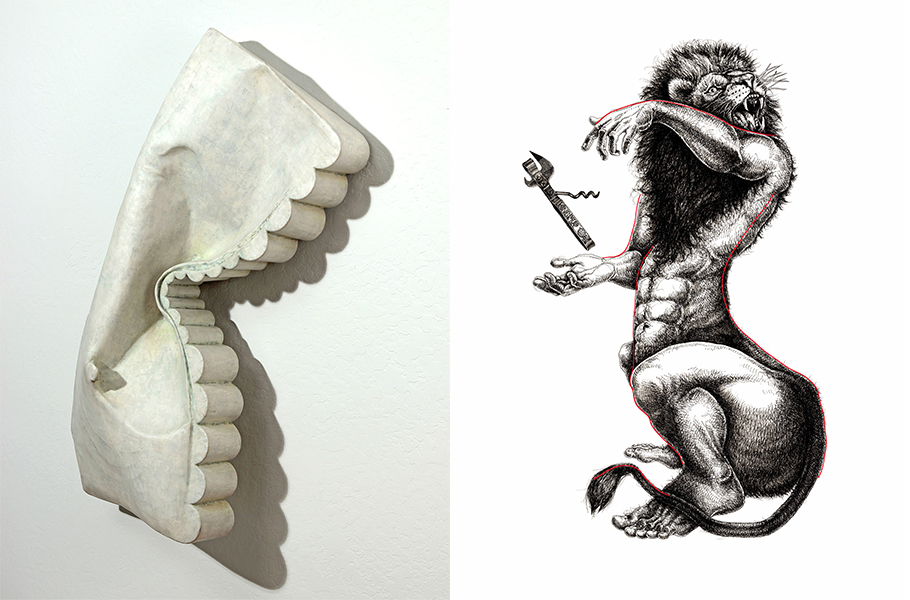 SOLACE
NEW SCULPTURES BY CHRIS BEARDS
It feels a little unreal to have an art show in the midst of a pandemic.
Between shelter-in-place orders and social distancing I spend a lot more time in the studio. I work until my arms and hands are inflamed and aching. I find myself wondering just what the hell I am doing as I obsessively create and complete the sculptural works for this show, Solace. But I don't know what else to do that feels as true.
Spanning pre-pandemic time to now-pandemic time, these works encompass a variety of materials and methods. Some look more like bone, ivory, or stone — symbolizing the passage of time and its effect on our memories. Others experiment with opacity and chaos, and appear different depending on where you stand. Newer works investigate optical effects to offer varying perspectives and reflect back upon the viewer.
I question the function that art serves during these unprecedented times of social upheaval and deadly disease. I wonder what my role is as an artist. Is it to comment directly on current events? Is it to keep working the same way as yesterday to maintain a sense of inner calm and continuity? Or perhaps, it is to let in as much of the world as I can (just a tiny introverted sliver, but overwhelmingly plenty), respond to it as truly as I can, and share what I have created with the hope of touching others in a meaningful way.
This is what I have tried to do. And so here is Solace.
SAID AND UNSAID   (ECHOES & HAUNTINGS SERIES)    2019, STEEL FORM, GLUE & TORN WHITE PAPER, ACRYLIC PAINT, SOFT PASTEL, SHELLAC    33″×21″×9″
TRIALS OF THE GOLDEN RAT 
NEW LITHOGRAPHS BY PATRICK DUEGAW
Duegaw's latest project explores the power of drawing, the creative process, and the epic myth of The Twelve Labours of Hercules. Five random marks made on a blank plate serve as a jumping-off point resulting in this series of abstracted figures: animal-human hybrids revealing themselves in a provocative tale of ignorance, manipulation and control, intolerance, hubris, greed, but also of justice and acceptance. Part cloud-busting, part Rorschach test, the employment of the childhood game of Five Lines has yielded fourteen images, each a small edition of lithographs, together representing the ancient mythical trials of the son of Zeus.
"A Hunter's Lament (or) The Indignity of Can Openers", 2020 Lithograph on paper (3 color edition of 25)/ 16.25 x 21.5 inches