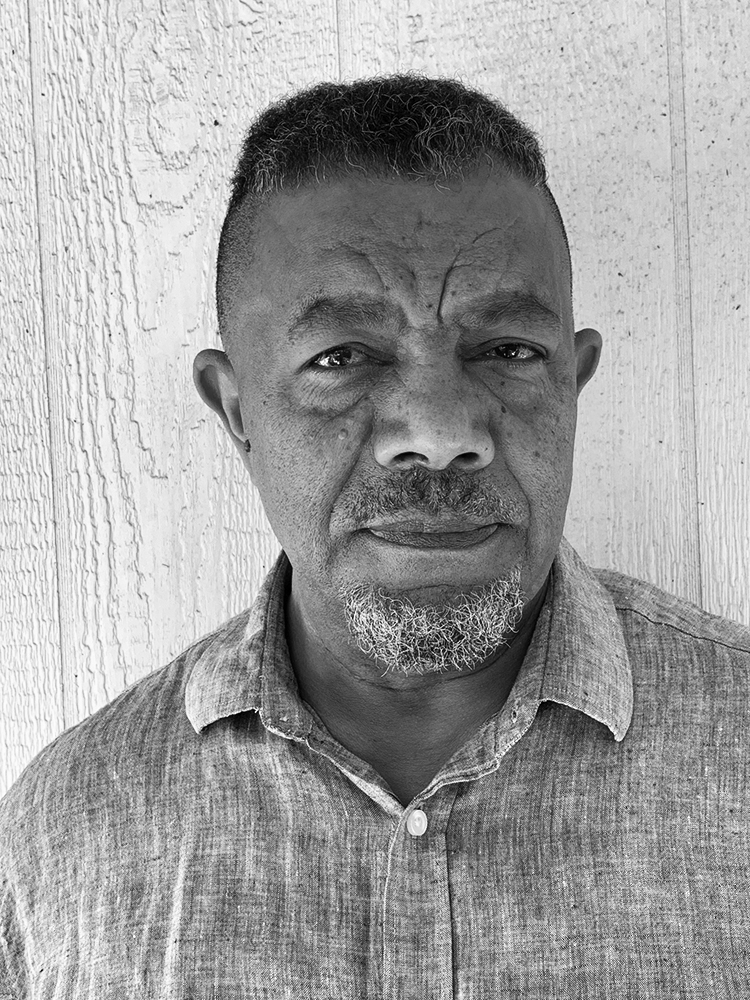 Shop Artist's Full Portfolio
Born in Ethiopia in 1950, Wosene (his professional name) is best known for his inventive renderings of the Amharic script, and as a master translator of the human experience. He is the first Ethiopian-born painter to use the script forms in contemporary art, inspired by the rich Ethiopian iconography and written traditions in which word and image are deployed to create aesthetically compelling objects of devotion and healing. In Wosene's paintings, however, the words themselves become images and icons, beyond any literal meanings. This slippage between the visual and literal dimensions of script amounts to a kind of epiphany that reveals the aesthetic, sensory, even kinetic potential of the written word.
Since his student years in Addis Ababa, American jazz has asserted a significant influence on his work. Like jazz music, the script provides a repertoire of dense, yet supple, elements that lend themselves well to visual improvisation. Jazz also shapes his sense of composition: like improvisational music, the language symbols can be juxtaposed on canvas in nonverbal 'word-plays' that create a visual language of form and color, rhythm and movement.
Academically trained as a fine artist with a BFA from the School of Fine arts in Addis Ababa and an MFA from Howard University in Washington, DC, Wosene has gained critical attention on the international art scene with works in the permanent collections of the Smithsonian National Museum of African Art; Virginia Museum of Fine Arts, Richmond, VA; National Museum of Ethiopia; The Newark Museum, NJ; Neuberger Museum of Art, Purchase, NY; Indianapolis Museum of Art, IN; North Carolina Museum of Art, Raleigh; Keith Haring Museum of Japan, Kobuchizawa;Volkerkunde Museum in Switzerland, to name a few, and in many international private collections.
EDUCATION
1980 MFA, painting and drawing, Howard University, Washington, DC;
Ford Foundation Talent Scholar
1972 BFA, painting, drawing, design, School of Fine Arts, Addis Ababa, Ethiopia. Graduated with distinction
STUDIO ARTS EXPERIENCE
1972 – present Professional studio artist: painting and sculpture
2000 – 2001 Artist-in-residence, Virginia Center for the Creative Arts, Sweet Briar, VA
1996 Artist-in-residence, Rockefeller Foundation, Bellagio, Italy
1984 Artist-in-residence, Virginia Center for the Creative Arts, Sweet Briar, VA
SELECTED COLLECTIONS
Virginia Museum of Fine Arts, Richmond, VA
National Museum of Ethiopia, Addis Ababa
Smithsonian National Museum of African Art, Washington, DC
The Newark Museum, Newark, NJ
Neuberger Museum of Art, Purchase, NY
Indianapolis Museum of Art, Indianapolis, IN
Birmingham Museum of Art, Birmingham, AL
Fowler Museum at UCLA, Los Angeles, CA
Samuel P. Harn Museum, University of FL, Gainesville
Krannert Art Museum, University of Illinois, Champaign/Urbana
Fleming Museum, Burlington, VT
U.S. Embassy, Addis Ababa, Ethiopia
Völkerkunde Museum, Zürich, Switzerland
Peter Gray Museum, Puerto Vallarta, Mexico
United Nations, New York, NY
Rockefeller Collection, New York, NY
Library of Congress, Washington, DC
Zora Neale Hurston Museum, Orlando, FL
City of Addis Ababa Museum, Ethiopia
Bank of Hanover, Hanover, NH
Alza Corporation, Mountain View, CA
Tobias Management LLC, New York, NY
Highland Hospital, Oakland, CA
University of CA Medical Center, Davis, CA
Chikamori Hospital, Kochi, Japan
Howard University, Washington, DC
Florida State University, Tallahassee, FL
University of Maryland, Eastern Shore, MD
Paul Herzog and Jolene Tritt Collection, Burlington, VT
* and many international private collections
SELECTED SOLO EXHIBITIONS
2021 Cromwell Place, London, UK
2019 Paul Mahder Gallery, Healdsburg, CA
2018 Art Dubai, UAE
2017 Paul Mahder Gallery, Healdsburg, CA
2016 Paul Mahder Gallery, Healdsburg, CA
Keith Haring Museum of Japan in Kobuchizawa Japan
2015 Gallery of Fine Art (GAFRA), London, UK
Hoshigaoka Gallery, Kochi, Japan
2014 The Loft Galeria, Puerto Vallarta, Mexico
Majlis Gallery, Dubai, UAE
Terra Firma Gallery, Sonoma, CA
2013 Gallery of African Art, London, UK
2012 Skoto Gallery, New York, NY
Hoshigaoka Gallery, Kochi, Japan
2011 Fleming Museum, University of Vermont, Burlington, VT
(Exhibition from the collection of Paul Herzog and Jolene Tritt)
Bekris Gallery, San Francisco, CA
2010 National Museum of Ethiopia, Addis Ababa
(Exhibition of paintings and sculptures)
2009 Skoto Gallery, New York, NY
Madelyn Jordon Fine Arts, Scarsdale, NY
2008 Stella Jones Gallery, New Orleans, LA
Contemporary African Arts, New York, NY
2007 Addis Art, Los Angeles, CA
Guilford College Gallery of Art, Greensboro, NC
2006 Mexican Heritage Museum, San Jose, CA
Skoto Gallery, New York, NY
2005 St. George Gallery, Addis Ababa, Ethiopia
2004 The Newark Museum, Newark, NJ
Skoto Gallery, New York, NY
Hoshigaoka Gallery, Kochi, Japan
2003 Neuberger Museum of Art, Purchase, NY
Galeria Botello, San Juan, PR
2002 Skoto Gallery, New York, NY
Hoshigaoka Gallery, Kochi, Japan
Museum of Antigua/Barbuda, St. Johns, Antigua, West Indies
2001 Bomani Gallery, San Francisco, CA
Folkens Museum, Etnografiska, Stockholm, Sweden
2000 Parish Gallery, Washington, DC
1999 Spirits in Stone Gallery, Sausalito, CA
1997 Hoshigaoka Gallery, Kochi, Japan
1996 St. George Gallery, Addis Ababa, Ethiopia
1995 Bomani Gallery, San Francisco, CA
1994 Parish Gallery, Washington, DC
1993 Florida State University, Tallahassee, FL
1991 Woodstock Gallery, Woodstock, VT
1990 Cottonbrook Gallery, Stowe, VT
1988 The World Bank, Washington, DC
AVA Gallery, Hanover, VT
1987 Howard University Gallery of Art, Washington, DC
1986 United Nations, New York, NY
1984 Albert Gordon Art Gallery, New York, NY
1980 Howard University Gallery of Art, Washington, DC
1974 Belvedere Gallery, Addis Ababa, Ethiopia
SELECTED EXHIBITION REVIEWS IN:
The New York Times
Washington Post
San Francisco Chronicle
Winston-Salem Journal
Philadelphia Tribune
San Jose Mercury News
El Nuevo Dia (San Juan, PR)
African Arts
ArtWeek Magazine
Artist Profile: Wosene Worke Kosrof