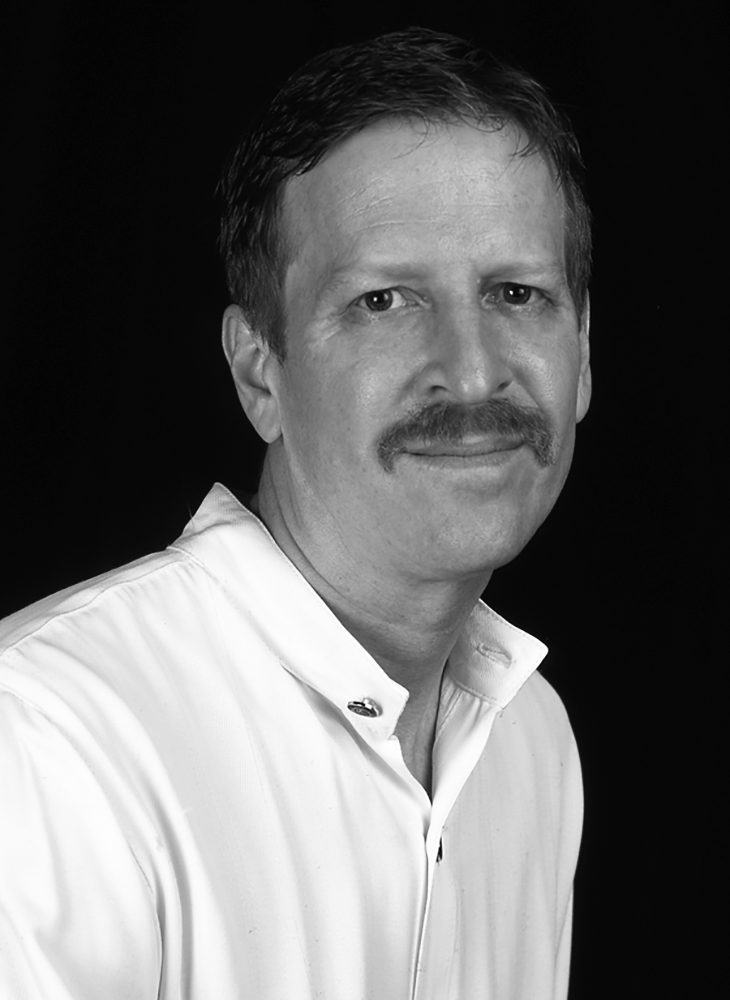 Shop Artist's Full Portfolio
My work begins with questions. What is the essential reality of our being and our relationship with nature? Is it sacred? How is it evident and can I capture it in a photograph?
I am looking for a photographic language that goes beyond the sentimentality of "oneness with all things" to opening an actual dialogue and learning experience between nature and us.
Technical Considerations:
My photographs are taken with the large format, 4″ x 5″ Wisner Technical Field Camera. This film size delivers superior image quality and clarity and permits my work to be enlarged to wall-sized prints without a blurred or grainy appearance. Some photographs are single black and white or color images, while others are combinations. With these, I create layered perspectives of the human form and textured landscapes.
 
These photographs are unaltered by any digital process or printing technique. What you see is what I assembled by hand on my light table. 
 
Prints are made using an Océ Lightjet 430 on Fuji Flex archival material and limited to editions of 15. Within each edition I offer a range of sizes from 16″ x 20″ to as large as desired. 
 
I have worked as a professional fine art photographer for over 26 years. My work has been shown internationally in museums, galleries and churches and in private collections worldwide.
Born – 1959 Pontiac, Michigan
1984 – Graduated Webster University, Missouri. B.A. Arts Management
1994 – Began taking photographs with large format camera
2001 – Founded the Blue Room Gallery, a nonprofit art space in San Francisco
2007 – Founded the Paul Mahder Gallery in San Francisco
2014 – Founded the Paul Mahder Gallery in Healdsburg, CA
solo exhibitions
September, 2006 St. Gregory's of Nyssa, San Francisco, CA
June, 2006 Magnet, San Francisco, CA
September, 2004 Darnell Fine Art, Santa Fe, NM
September, 2001 Mussi Artworks Foundry, Berkeley, CA
August, 2001 St. Gregory's of Nyssa, San Francisco, CA
1999 – 2005 Pacific Showrooms West, Chicago, IL, San Francisco, CA,
Atlanta, GA, Dallas, TX
August, 2000 Professional Medical Bldg., San Francisco, CA
March, 2000 Lierre Theatre – Paris, France
February, 2000 Bay Club Bank of America Center, San Francisco, CA
September, 1999 Peter Alexander Art & Furniture Gallery, San Francisco, CA
August, 1999 St. Gregory's of Nyssa, San Francisco, CA
May, 1999 Grace Cathedral, San Francisco, CA
January, 1999 Architects & Heroes, San Francisco, CA
August, 1998 Kenneth Winslow Gallery, New York, NY
September, 1997 Plaza Frontenac, St. Louis, MO
March, 1996 Christ Church Cathedral, St. Louis, MO
October, 1995 Center for Photography, St. Louis, MO
November, 1994 Center for Photography, St. Louis, MO