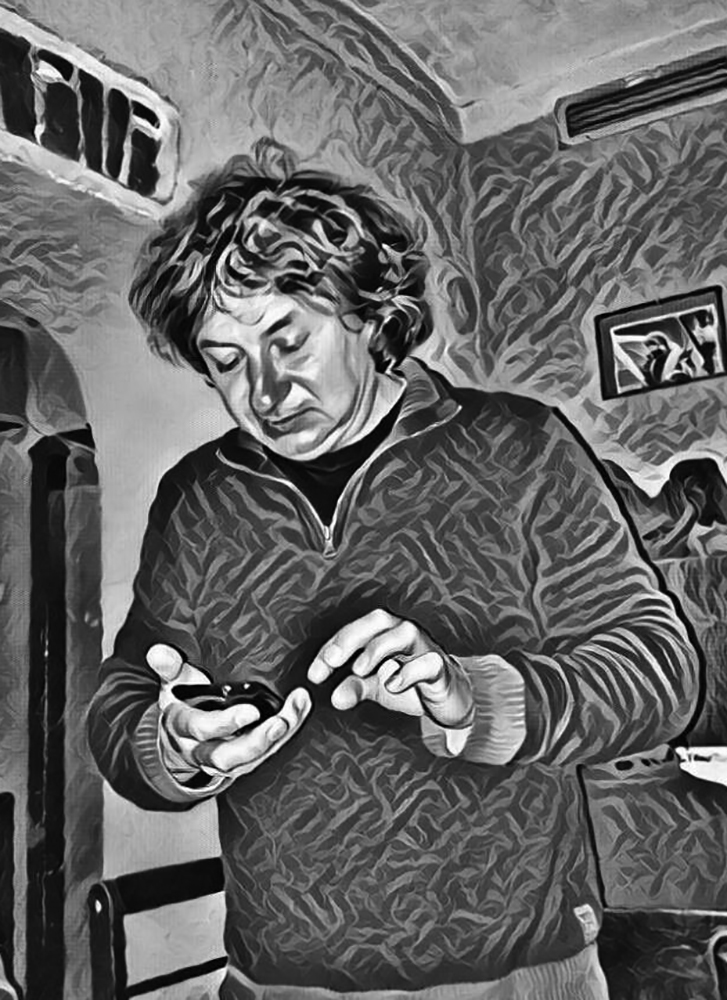 Shop Artist's Full Portfolio
Born in Bulgaria in 1968, Atanassov uses mixed techniques with oil paints, acrylics, tempera, watercolors and markers. He searched for the subtle balance between old masters and modern art. He was educated at the Art College in Bulgaria and has shown his work in numerous solo and group exhibitions.
"My art style is based on the theory of chaos. Everything came out of chaos, and becomes mathematical laws of perfection. Similarly, in my art, paint explodes without control, colors of nuclear explosions, variations of vibration, light running out of space ad time…and then the lines travel like rivers between the mountains to organize and control the madness of these flowing colors.
My art is based on the idea "unus-mundus," one world, the visible and Invisible world together. The air space around us is filled with invisible life. In science we already know of eleven dimensions, yet we cannot explain all of this. For us it is like magic, but day after day many new or very old forgotten wonders are coming to us, opening new doors of knowledge.
One day we might wake up and find out that all those legends from history; all those fiery tales and mythology, are truth.
According to quantum physics, there are so many different laws that are totally new fields of the Para physic. This amazes me. The universe created in my paintings belongs to those Para normal laws.
I am searching for a world without borders. I organize color and line in a way that helps me find the subtle balance between realism and abstract,
to touch the border of the world here and beyond; past, present and future.
I am looking for a new space and new time…infinity on canvas."
Private School of Michail Kamberov, 1988-1992
Independent study course in painting under the supervision of world famous artist Michail Kamberov
Art College, Kazanluk, Bulgaria, 1983-1988
Industrial and Interior Design
EXHIBITIONS
2015 Paul Mahder Gallery, Healdsburg, California
2010 Paul Mahder Gallery, San Francisco, California
2007 Silent Auction, Varnish Fine Art Gallery, San Francisco, California
2007 International Show, Gallery 24, Berlin Germany
2006 Solo Show, Institute for Unpopular Culture, San Francisco, California
2006 Muse Gallery, San Francisco, California
2006 California Modern Gallery, San Francisco, California
2006 Blue Room Gallery, San Francisco, California
2005 Florence Biennale, Florence, Italy
2005 Solo Show, Blue Room Gallery, San Francisco, California
2005 California Modern Gallery, San Francisco, California
2005 Art Festival, Design Center, San Francisco, California
2005 Blue Room Gallery, San Francisco, California
2004 Solo Show, California Modern Gallery, San Francisco, California
2004 California Modern Gallery, San Francisco, California
2004 San Francisco Open Studios
2004 Yerba Buena Center for the Arts, San Francisco, California
Institute for Unpopular Culture
2004 Blue Room Gallery, San Francisco, California
2003 Blue Room Gallery, San Francisco, California
2002 Institute for Unpopular Culture, San Francisco, California
2002 Limner Gallery, New York, New York
2002 Sun Gallery, Hayward, California
2001 "Spiritual IV" An International Juried Art Exhibition, Omaha, Nebraska
2001 Urban Colors Gallery, San Francisco, California
2001 European Artists Group Exhibition, DreamE Gallery, San Francisco, CA
2000 San Francisco Open Studios
2000 6th Annual Water Color Exhibition, "AQUA" Areas 2000", Santa Rosa, California
2000 "live with This", A.C.C.I. Gallery, Berkeley, California
1998 Art Festival, Skopie, Macedonia
1998 International Competition for Painting, Alba Gallery, Sofia, Bulgaria
1997 National Exhibit "Surrealism", Shipka 6, Sofia, Bulgaria
1997 Vodka "Absolut" competition for a new product line (4 pieces selected)
1992 – 1997 Paintings sold to galleries and private collections in Germany, Austria, Switzerland, The Netherlands, France, and USA
1992 National Exhibit for Young Artists, Pleven, Bulgaria
1991 Group Show Paintings, Borovetz, Bulgaria
1987 National Design Exhibit, Stara Zagora, Bulgaria
1986 National Design Exhibit, Oreshaka, Bulgaria
PUBLICATIONS
2005 Florence Biennale Book
2004-2005 New Art International Magazine, New York
2004 Direct Art Magazine, New York
2003 Direct Art Magazine, New York
2002 Art Domain Ibiza, Spain
2002 Best Picture – Group Show, Limner Gallery, New York, New York
1998 International Competition for Painting, Alba Gallery, Sofia, Bulgaria
1987 Gold medal – National Black and White Photography Exhibit, Kazanluk, Bulgaria