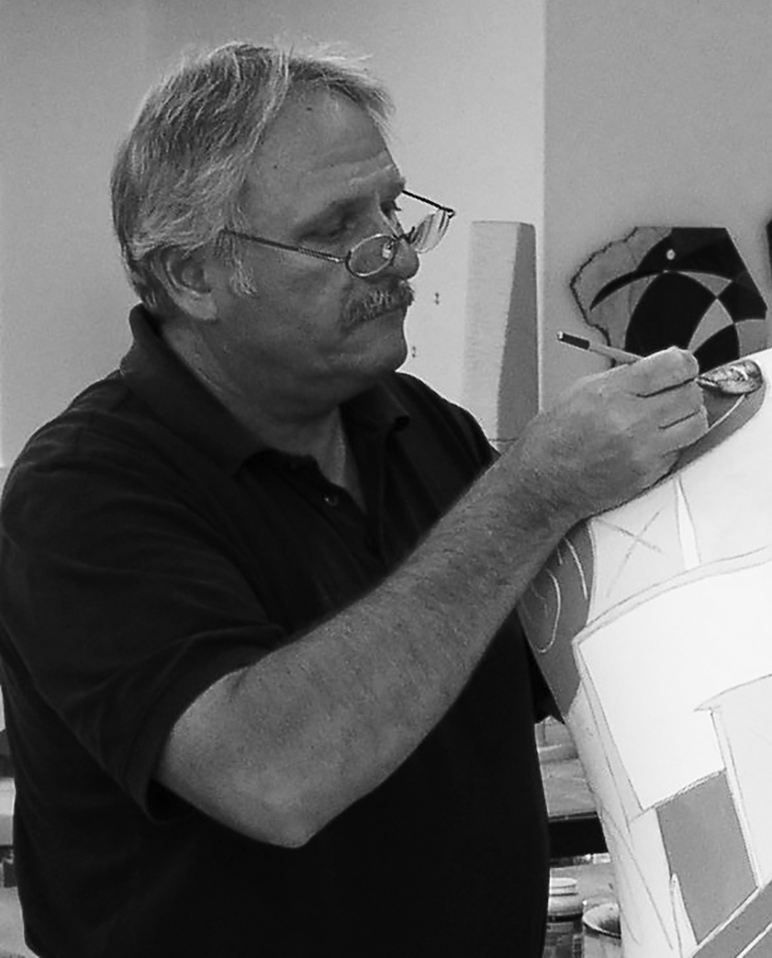 Shop Artist's Full Portfolio
"Clay has been an art form that man has used since the beginning of time. Every culture that has been discovered through archeology has a historic record of uses for clay. From utilitarian to sculpture this ancient historical record has always intrigued me. Since my discovery of clay I have been learning and exploring the many different qualities of clay.
As you look at my works you will note that I use many different techniques to manipulate clay to express my personal aesthetic views. Clay itself has a lot to do with my aesthetic viewpoint.
The last 40 years I have used the forms that I create, whether vessel or wall slabs, as a vehicle to express myself as a painter using glaze as my paint. My most recent works are a series of large hand built tectonic forms. With these forms I will continue to explore and express the language of clay. As is the case with most artists, the analyzing and verbalizing of their works is really not the statement, the statement truly is the work itself."
EDUCATION:
1977- 1978 M.F.A., San Jose State University, San Jose, CA
1976- 1977 M.A., San Jose State University, San Jose, CA
1973- 1975 B.A., San Jose State University, San Jose, CA
1971- 1973 A.A., Rio Hondo Community College, Whittier, CA
SHOWING RECORD:
2018 Paul Mahder Gallery, Healdsburg, CA
2015 19th Anniversary Show, Hawthorne Gallery, Big Sur, CA
Signature Gallery, Maui, HI
Art Sculpture Walk, Yountville, CA
San Francisco Home and Garden Show, San Mateo, CA
2014 18th Anniversary Show, Hawthorne Gallery, Big Sur, CA
Group Artist Show – Signature Gallery, South Lake Tahoe, CA
Group Showing – Xanadu Gallery, Scottsdale, AZ
Sausalito Art Festival, Sausalito, CA
Art Sculpture Walk, Yountville, CA
2013 17th Anniversary Show, Hawthorne Gallery, Big Sur, CA
Sausalito Art Festival, Sausalito, CA
La Quinta Art Festival, La Quinta, CA (1st place winner in ceramics)
Desert Collections, Palm Desert, CA
2012 16th Anniversary Show, Hawthorne Gallery, Big Sur, CA
Winter Group Show, Xanadu Gallery, Scottsdale, AZ
'All you Need is Love', Museum of Art/History, Santa Cruz, CA
'One Person Show" Many Hands Gallery, Santa Cruz, CA
2011 'A Painterly Approach', Gallery of Modern Masters, Sedona, AZ
15th Anniversary Show, Hawthorne Gallery, Big Sur, CA
' New Inspirations' Hawthorne North Gallery, Port Orford, OR
'One Person Show', Black Bean Ceramic Art, San Jose, CA
2010 14th Anniversary Show, Hawthorne Gallery, Big Sur, CA
Group Artists, L'Attitude Gallery, Boston, MA
Group Show, Coda Gallery, Palm Springs, CA
One Person Show/Workshop, Black Bean Ceramic Arts, San Jose
2009 13th Anniversary Show, Hawthorne Gallery, Big Sur, CA
Gallery Artist Show, New Leaf Gallery, Sonoma, CA
Group Artists, Anderson O'Brien Gallery, Omaha, NE
2008 12th Anniversary Show, Hawthorne Gallery, Big Sur, CA
New Space Show, Somerhill Gallery, Chapel Hill, NC
One Person Show, Gallery of Modern Masters, Sedona, AZ
2007 Human Form, L'Attitude Gallery, Boston, MA
11th Anniversary Show, Hawthorne Gallery, Big Sur, CA
Group Show, Xanadu Gallery, Scottsdale, AZ
2006 Primary Color Group Show, Sculpturesite Gallery, San Francisco
Vickers Collection, Ketchum, ID
10th Anniversary Show, Hawthorne Gallery, Big Sur, CA
2005 Winter Fire, Xanadu Gallery, Scottsdale, AZ
See No Evil, Kent Gallery, Key West, FL
The Language of Clay, Highland Gallery, Breckenridge, CO
9th Anniversary Show, Hawthorne Gallery, Big Sur, CA
2004 8th Anniversary Show, Hawthorne Galley, Big Sur, CA
The Fire Within, Arte Gallery, Palm Desert, CA
The Perfect Collection, Fuller Crafts Museum, Boston, MA
2003 7th Anniversary Show, Hawthorne Gallery, Big Sur, CA
Earth, Wind, Sun and Fire, New Leaf Gallery, Oakland, CA
NSECA '03 Parisi Gallery, Del Mar, CA
Summer of '03, Gallery of Salishan, Glenden Beach, OR
2002 NSECA, Jayne Gallery, Kansas City, MO
6th Anniversary Show, Hawthorne Gallery, Big Sur, CA
L'Attitude Gallery, Anne Marie, FL
2001 Anderson O'Brien Gallery, Omaha, NE
5th Anniversary Show, Hawthorne Gallery, Big Sur, CA
Sausalito Arts Festival, Sausalito, CA (Best of show award)
2000 Rosenbaum Fine Arts, Boca Raton, FL
Art Collector, San Diego, CA
4th Anniversary Show, Hawthorne Gallery, Big Sur, CA
1999 Group Show, MC Anderson Gallery, Minneapolis, MN
3rd Anniversary Show, Hawthorne Gallery, Big Sur, CA
1998 Navy Pier 1998, Hawthorne Gallery, Big Sur, CA
Ceramic Invitational, Gallery 500, Elkins Park, PA
One Person Show, Foster White Gallery, Seattle, WA
1997 Gallery Artists, Martin Harris Gallery, Jackson Hole, WY
Cross Harris Gallery, New York City, NY
1996 New York Expo, Arts Alive Gallery, New York City, NY
Works in Raku, Kirkland Gallery, Seattle, WA
SOFO Exhibit, Gallery 500, Miami, FL
1995 Navy Pier Show, MC Gallery, Minneapolis, MN
Clay Expo, Frogman Gallery, SD
Foster White Clay Exhibit, Foster White Gallery, Seattle, WA
INVITATIONAL SHOWS:
2014 Yountville Sculpture Walk, Yountville, CA
1997 Grand Junction Sculpture Walk, Grand Junction, CO
1990 NSECA Traveling Invitational Show – USA
2013 1st Place in Ceramics – Sausalito Arts Festival
2006 Judges Award – Festival of the Arts in the Redwoods, Mendocino
2004 2nd Place in Sculpture – Festival of the Arts in Redwoods, Mendocino
2001 Best of Show – Sausalito Arts Festival