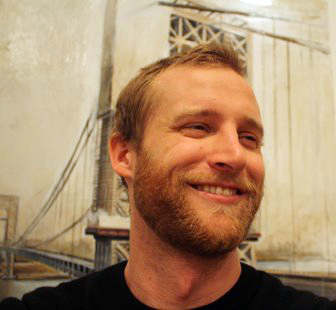 Shop Artist's Full Portfolio
Jake Messing was born in northern California in 1982 . He graduated from Parsons School of Design with a degree in Illustration in 2006.  He has been invited to multiple International Artist residencies including Camac Centre d' Arte (Paris, Fance) and the Banff Center (BC, Canada). Messing has had several solo shows in New York and France and has been invited to join numerous group exhibitions around North America. He was hired to manage the art department for Tiffany & Company's Global Visual Merchandising team from 2010-2015 before deciding to pursue his own artwork. He taught drawing and painting as an adjunct professor at New York University Tisch graduate department from 2012-2016. Mr Messing has recently completed a large 20'x125′ mural for the new Mercedes Benz Stadium in Atlanta, GA. The artist presently resides and works in Healdsburg, California and continues to paint daily and do freelance art, design and consultation for Luxury brand companies including: Harry Winston, Tiffany & Co., Van Cleef & Arpels, Nike, and Bergdorf Goodman, among others.
JAKE MESSING
MERCEDES BENZ STADIUM – ATLANTA, GA // 2015 – 2017
Researched and presented concepts, produced artwork and oversaw installation of three large scale paintings permanently displayed in the concourse of the new Mercedes Benz Stadium in Atlanta, Georgia. All three paintings work together as a triptych and measure in total I 8′ tall x JOO' long. Hand painted with Oil on Canvas.
HARRY WINSTON – NEW YORK, NY // 2004 – Present
Create original artwork for international advertising campaigns, in-store visual merchandising collateral, pop-up shops,fashion and packaging design. Oversaw all NYC flagship store window display and caseline installations . Manage production and installation of 2-D and 3-D Artwork between vendors and NYC Flagship boutique .
BERGDORF GOODMAN – NEW YORK, NY // 2006 – Present
Design, produce and install large scale ( I 0'xl 4 ') hand-painted backdrops and 3-D visual merchandising collateral for 5th Avenue window displays . Partner with NYC Flagship store to create, original artwork on display and for sale throughout the store .
TIFFANY & CO. – NEW YORK, NY // 2010 – 2014
ARTWORK MANAGER FOR GLOBAL CREATNE VISUAL MERCHANDISING
Responsible for the design and production of all traditional and digital artwork and signage for the global Creative Visual Merchandising department. Concepted, created and managed the development of all in-store 2-D and 3-D artwork for window displays, case line, vinyl, graphics and special events. Worked extensively with local and international print and production/manufacturing vendors to produce and distribute artwork for all 313 stores globally. Researched concepts and prepared presentation materials with sketches, scale models, and technical drawings. Participated in and oversaw window display and caseline installations. Controlled spending and managed design expenses.
VAN CLEEF & ARPELS – NEW YORK, NY // 2004 -2009
Create original artwork for Visual Merchandising collateral including backdrops for window displays and case line collateral.
NIKE//2006
Create original artwork for international ad campaign for the 2006 World Cup. Researched and presented concepts , produced artwork and prepared all.files for print on various 2-D collateral.
EDUCATION
PARSONS SCHOOL OF DESIGN – NEW YORK, NY
Bachelor of Arts – Illustration, May 2006
Graduated with Honors
AWARDS/ PRESS
Featured in Architectural Digest – 2017
Winner of London International Creative Competition – 2010
Best in Show- International Society of Acrylic Painters -2009
Best in Show- Mills Morrison Gallery -2009
TEACHING
NYU – NEW YORK, NY // 2011-2014
Adjunct professor for Tisch Graduate Program. Taught Fine arts and Digital Arts course for Lighting, Set and Costume designers .
ADDITIONAL CLIENTS
Michael Kors
Brooklyn Public Library
Mrs John L Strong
Jam Master Jay Foundation
Bvlgari
Cynthia Vincent
DL& Co.