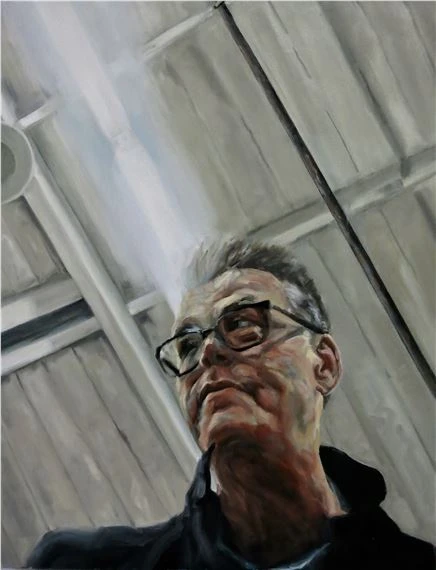 Shop Artist's Full Portfolio
Reflecting a profound knowledge of art history and an alchemist's sense of the painting craft, Jack Smith has forged his own place amongst the most powerful contemporary artists working today. Though his subject matter is wide ranging, he has received considerable attention for his primary genre of portraiture and an ongoing investigation of the human condition.
Jack Richard Smith (b.1950).
Smith maintains a studio in Playa Potrero, Costa Rica
"Jack Smith knows just how firmly to press down on the accelerator of realism. His portraits reveal with striking clarity the living character of their subjects, and yet the work of the paint and the action of the brush remain beautifully visible. It's a rare balance that delights the viewer on both levels at once." Billy Collins, United States Poet Laureate
"In this virtual and digital age, Jack Smith's paintings remind us that true satisfaction comes in the experience of the tangible. Whether it be the subtlety of thought in an eye or the way a warm light falls across a shoulder, the details of Jack's paintings are palpable, and we are reminded what true connection is." Matthew McLendon, Curator, Modern and Contemporary The Fralin Museum of Art "
JACK RICHARD SMITH STUDIOS 10 Pacific Beach, Surfside, Playa Potrero, Costa Rica
Jack Smith – (b. 1950)
Education:
1968-1969 Columbus College of Art and Design, Columbus, Ohio
1970-1971 Instituto Allende, San Miguel de Allende, GTO, Mexico
1971-1972 Thomas Jefferson College, Grand Valley University
Awards: Past Achievement Award, Peter and Madeline Martin Center for the Creative Arts, San Francisco, CA
Solo Exhibitions: 2011-22 Portrait Commissions exclusively. 2011 Portraits of American Poets: Permanent Collection, Eberhard Writers Center, Grand Valley State University, Grand Rapids, MI 2011 New Paintings: Max Siegel Fine Art, San Diego, CA 2010 Portrait of Dennis and Henry Lee Hopper: The Harwood Museum of Art, Taos, NM 2010 Portraits of American Poets: Key West Literary Seminar, Customs House Museum, Key West, FL 2009 Portraits of American Poets:The Cornell Fine Arts Museum, Rollins College, Winter Park, FL 2008 Anomaly, Recent Paintings by Jack Smith: Sullivan Goss Gallery, Santa Barbara, CA 2006 Recent Paintings: Sullivan Goss Gallery, Santa Barbara, CA 2004 Recent Paintings: Parks Gallery, Taos, NM 2000 Recent Paintings: Jaquelin Loyd Contemporary, Ranchos de Taos, NM 1999 Las Casas de los Valles: Mongerson-Wunderlich Galleries, Chicago, Ill 1998 Recent Paintings: Mongerson-Wunderlich Galleries, Chicago, Ill 1992 Nudes and Foods: The Print Gallery, Southfield, MI 1992 The Triumph of Light: Dennos Museum, Traverse City, MI 1991 New Paintings and Works on Paper: Suttons Bay Galleries, Suttons Baby, MI 1988 Jack Smith, Recent Paintings: University of Cincinnati, Cincinnati, OH
Group Exhibitions: 2018 Taos, The 60's-Present: Vivian Horan Fine Art, New York, NY 2017 The Errant Eye: The Harwood Museum of Art, Taos, NM 2016 A Fine Line: The Paul Mahder Gallery, Healdsburg, CA 2015 Dennis Hopper / Hopper Collection and Ephemera: The School of Cinematic Arts, University of Southern CA, Los Angeles, CA 2012 Obama's America: The American Center for the Arts, Paris, France 2012 Taos Artists: Metropolitan State College Art Center, Denver CO 2009 Recent Work, Jack Smith, Larry Bell, Ron Copper and Charles Strong: 203 Gallery Taos, NM 2008 Art of the Human Canvas: MOCCA, Toronto, Canada 2008 Figure North, Figure South: Lofts Gallery, Puerto Vallarta, Mexico 2006 Spirited Expressions: Gerald Peters Gallery, Santa Fe, NM 2006 Eye to Eye: Jack Smith, Chuck Close, Cindy Sherman, Alex Katz, Thomas Ruff, Y.Z Kami, William Beckman, Rebecca Campbell: The Cornell Fine Arts Museum, Rollins College, Winter Park FL 2005 Scenes of American Labor: Sullivan Goss Gallery, Santa Barbara, CA 2004-5 Face to Face, Selected American Portraits: Sullivan Goss Gallery, Santa Barbara, CA 2004 Jack Smith, Taos Portraits and Wayne Thiebaud, City Country: The Harwood Museum of Art, Taos, NM 2003-4 Eight Annual Small Images Show: Sullivan Goss Gallery, Santa Barbara, CA 1994 Bunting Gallery, Royal Oak, MI 1993 MCC Gallery, Muskegon, MI 1993 Perception Gallery, Grand Rapids, MI 1991 Muskegon Museum of Art, Muskegon, MI 1990 Perception Gallery, Grand Rapids MI 1985 Muskegon Museum of Art, Muskegon, MI 1983 Max Siegel Fine Art, Taos, NM 1981 La Fonda de Taos Gallery, Taos, NM
Selected Subjects and Commissions: Derek Walcott, Nobel Laureate, Castries, St. Lucia W.S. Merwin, United States Poet Laureate, Haiku, HI Billy Collins, United States Poet Laureate, New York / Winter Park, FL Donald Hall, United States Poet Laureate, Wilmot, NH Ted Koozer, United States Poet Laureate, Kearney, NEB Dennis Hopper, Actor, Los Angeles, CA Michael Brown, Director / Producer, Serac Films, Boulder, CO David Crosby, Musician, Sant Ynez, CA Ed Healy, Philanthropist, Arroyo Hondo, NM Tom and Lynn Meridith, Philanthropists, Austin TX Quincy Troupe, Poet, Harlem, New York, NY
Collections: Alex and Gabriela Schischlik, UNESCO / Director, Paris, France Antonia von Salm, Southampton, LI, Los Angeles Arturo Peralta Ramos estate, New York, NY Barry and Jo Berkus, Montecito, CA Dan Gerber, Santa Ynez, CA Daniel Morris, New York, NY David Brown, Glasgow Scotland David and Jan Crosby, Santa Barbara, CA Dean Stockwell, Santa Fe, NM DePauw University, Greencastle, ID Dharma Properties, Del Rey Beach, FL Harwood Museum of Art, Taos, NM Jim and Linda Harrison estate, Livingston, MT Dennis Hopper estate, Los Angeles, CA Kenny White, Brooklyn, NY Larry Bell, Taos, NM, Venice Beach, CA Laurel Jacobson, Antigua, Guatemala Mel Weiner and Pamela Cooke, Silver Lake, CA Michael Brown, Boulder, CO Muskegon Museum of Art, Muskegon Michigan Neil Libert, London, England Frank and Patricia Goss, Santa Barbara, CA Jeremy and Hollad Tessemer, Santa Barbara, CA Peter and Madeline Martin Foundation for the Creative Arts, San Francisco, CA Richard Siegel estate, San Diego CA Richard Brautigan estate, Livingston, MT Tom and Lynn Meredith, Austin, TX Tom Richardson, San Diego, CA Tim Allen, Los Angeles, CA Williams-Meyer, Corn Close, North Cumbria, UK Xavier Baz, Denver, CO
Bibliography: The Visual Poetry of Jack Smith, Tempo Arts and Entertainment, The Taos News, by Virginia Clark, 2018 The Cafe Review: Jack Richard Smith / Sumac Tribute Issue, January 13, 2017, https:// www.thecafereview.com/fall-2015-poets-jack-richard-smith/ Jack Smith, Portraits and Selected Works, Fwd. by Michael Duncan, Essay by E. Luanne McKinnon, Bosque del Sud Press, 2016 / ISBN 978-0-692-41486-6, 140 pages, 108 color plates Jack Smith, Portrait of an Artist, Trailer for full length documentary on VIMEO, by David Jean Schweitzer, December, 2016 On Thousand and One Words – Jack Smith, Santa Fe Trend Magazine, by Keiko Ohnuma Photos by Bill Stengel, Fall 2010 / Winter 2011, pages 96-97 Jack Smith / Portraits of American Poets, Narrative Magazine, Winter Issue, 2008, http:// www.narrativemagazine.com/authors/jack-smith Cornell's New Look, Jack Smith, The Orlando Sentinel, January 20, 2006, page 4 Jack Smith, Interview, Casa Magazine, Santa Barbara, CA, December 22, 2006, page 41 Jack Smith, Taos Portraits, Harwood Museum of Art, Taos, NM, Catalogue Fwd. by John Nichols, 2004 Visual Fetishization, Painter Jack Smith Combines Bravura Technical Ability with Exploration of the Weird, By Tom Collins, Albuquerque Journal, Augus 18, 2000, page 4 Las Casas de los Valles, Exhibition catalogue, Mongerson-Wunderlich Gallery, Chicago, Ill Fwd by Rudolph Wunderlich, page 1 Jack Smith Recent Paintings, Exhibition catalogue, Mongerson-Wunderlich Gallery, Chicago Ill Fwd, by Rudolph Wunderlich. 1998, page 1
"Quite apart from being one of his subjects I am a big fan of Jack Smith's work." Derek Walcott, Nobel Laureate
"Smith's portraits meet the challenge of mimetic depiction in their explicit detail. Yet, they expand the dimension of realistic portraiture by expressing the conflict between the self absorption of the subject and the portraitist's attitude toward them. Richard Brilliant, author of Portraiture (1991)
"Jack Smith knows just how firmly to press down on the accelerator of realism. His portraits reveal with striking clarity the living character of their subjects, and yet the work of the paint and the action of the brush remain beautifully visible. It's a rare balance that delights the viewer on both levels at once." Billy Collins, United States Poet Laureate
"In this virtual and digital age, Jack Smith's paintings remind us that true satisfaction comes in the experience of the tangible. Whether it be the subtlety of thought in an eye or the way a warm light falls across a shoulder, the details of Jack's paintings are palpable, and we are reminded what true connection is." Matthew McLendon, Curator, Modern and Contemporary The Fralin Museum of Art
"His undersized portraits on copper are sensitive to the delicate intricacies of the soul, connecting the viewers to the experience of lives that feed great poetry. Himself a visual poet, Smith does nothing less than shape the subtleties of the self." Michael Duncan, Corresponding editor, Art in America