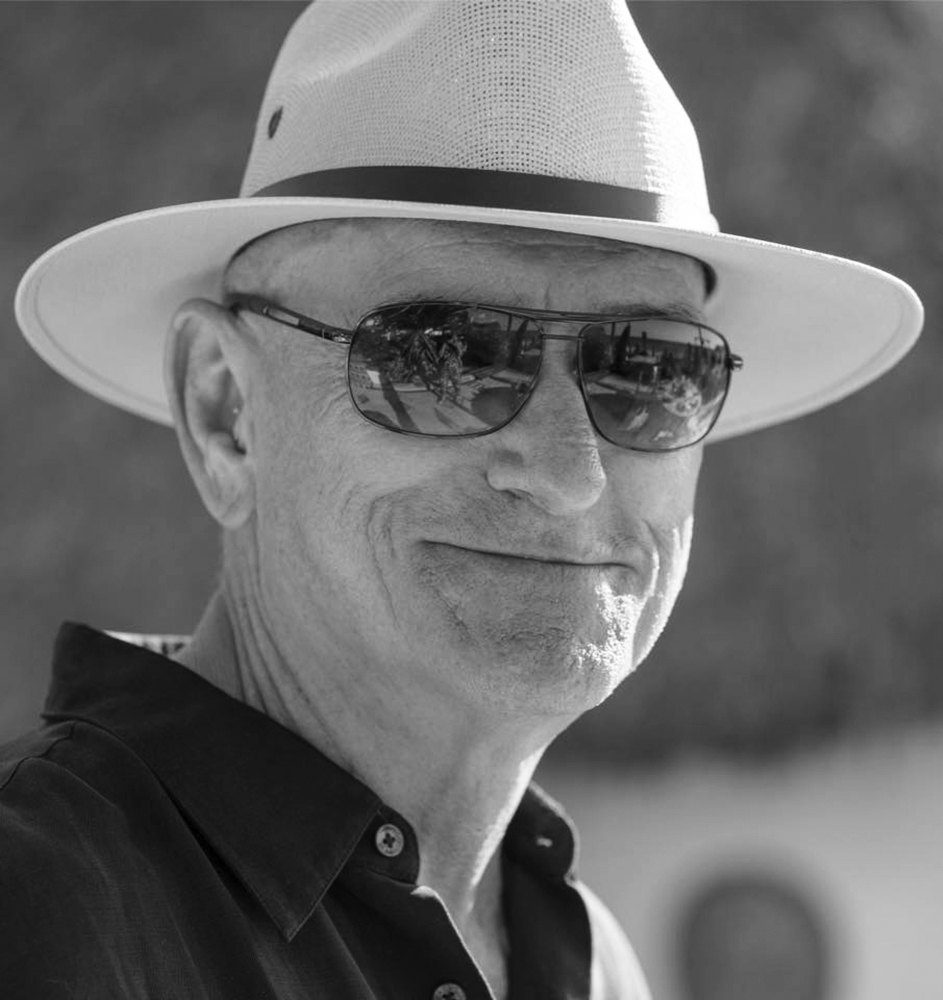 Shop Artist's Full Portfolio
I work using a combination of techniques developed in Japanese lacquer art, European medieval religious art and 'faux' painting Working on wood or composition board panels, I use various combinations of the following media: Japan paints (finely ground oil pigments that dry in a day and can be sanded), metallic powders, powdered pigments, varnishes, precious and common metal leaf, and acids.
I build up layers of paint, varnish and metal leaf, often sanding through the upper layers to expose the under painting. Some of the more complex pieces have up to fifty or more layers. The surfaces that are created are inherently abstract and free associative. By manipulating these properties the finished image is produced.
I consider myself an icon maker. My main source of inspiration – besides exploring the artistic possibilities of the techniques and media I use – is nature. Whether pictorial or abstract, nature is generally at the heart of the work. Being both an environmentalist and an artist, I hope to convey to others the sense of sacredness that I find in the natural world.
Solo Exhibition:
200/2001 Paintings by Ernest Ely, Gallery at 400 Castro, San Francisco, CA
Selected Group Exhibitions
2014 222 Paul Mahder Gallery, Healdsburg, CA
2012 Paul Mahder Gallery, San Francisco, CA
2011 Paul Mahder Gallery, San Francisco, CA
2010 Paul Mahder Gallery, San Francisco, CA
2009 Paul Mahder Gallery, San Francisco, CA
2008 Paul Mahder Gallery, San Francisco, CA
2007 Paul Mahder Gallery, San Francisco, CA
2005 Blue Room Gallery, San Francisco, CA
Living Proof, LGBT Center, San Francisco, CA
2004 Blue Room Gallery, San Francisco, CA
Locos Peligrosos, Mission Cultural Center, San Francisco, CA
Thoreau Center of Sustainability, Presidio San Francisco, CA
2003 Blue Room Gallery, San Francisco, CA
Spice, Catherine Clark Gallery, San Francisco, CA
2002 Scapes, Space 743, San Francisco, CA
Visual Aid Annual Exhibition, San Francisco, CA
Toomey Tourell Gallery, San Francisco, CA
Traveling Show, Positive
San Francisco, Main Library, San Francisco, CA
Amfar Convention, Bill Graham Civic Auditorium, San
Francisco, CA
SF LGBT Community Center, San Francisco, CA
2001 Crossing Bridges, CBS Market Watch, San Francisco, CA
2000 Visual Aid Annual Exhibition, San Francisco, CA
1999 New Conservatory Theater, San Francisco, CA
1998 Visual Aid Annual Exhibition, San Francisco, CA
1997 McKesson Building Gallery, San Francisco, CA
Visual Aid Annual Exhibition, San Francisco, CA
1996 de Young Museum, San Francisco, CA
Levi Strauss Plaza, San Francisco, CA
Visual Aid Annual Exhibition, San Francisco, CA
1995 Visual Aid Annual Exhibition, San Francisco, CA
1994 OPTS Art Show, Ansel Adams Center, San Francisco, CA
1993 College of Marin Gallery, Kentfield, CA
1992 Selections 1991, SomArts Gallery, San Francisco, CA
1991 Max Nugus, The Cannery, San Francisco, CA
Open Studios, San Francisco, CA
Artist Equity Show, SomArts Gallery, San Francisco, CA
1990 Open Studios, San Francisco, CA
Artist Equity Show, SomArts Gallery, San Francisco, CA
1986 Gale Laurence Studio-Workshop, San Francisco, CA
1985 Neiman-Marcus Gallery, San Francisco, CA
Education
Columbus College of Art and Design, Columbus, OH
Ohio State University, Columbus, OH
Day Studio – Workshop, San Francisco, CA