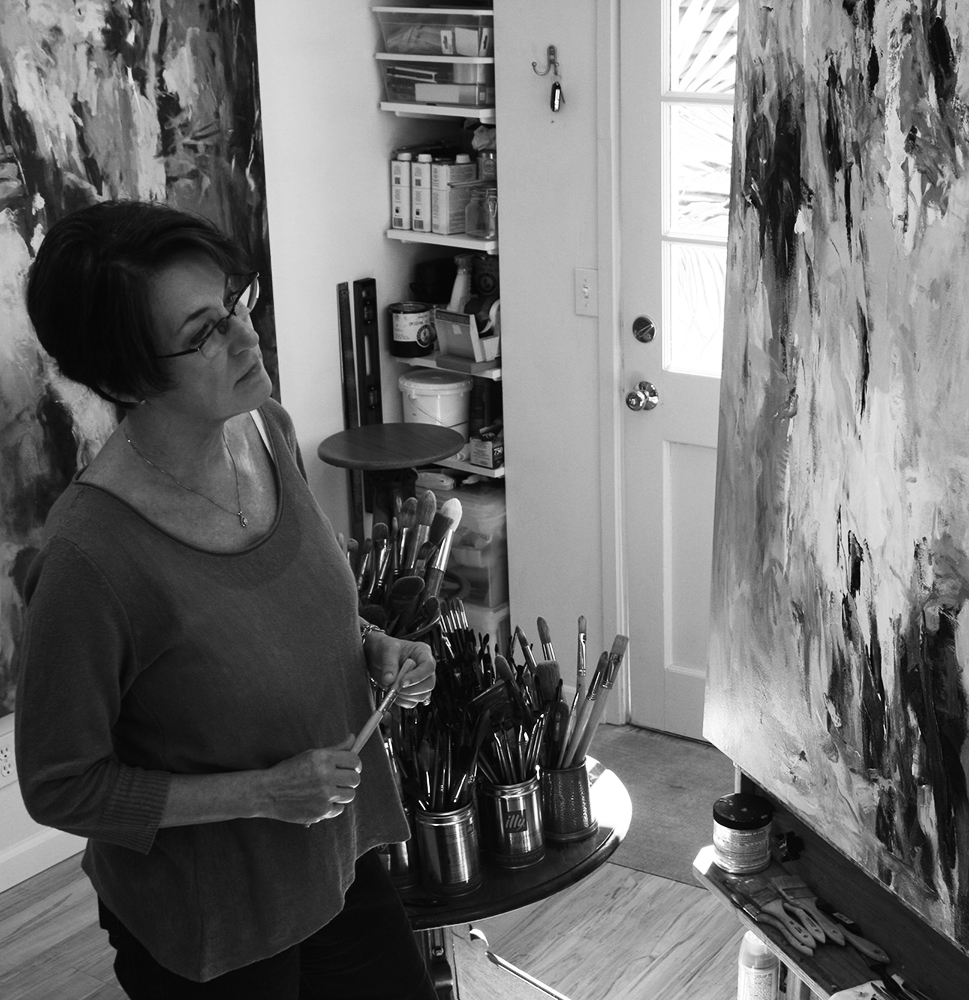 Shop Artist's Full Portfolio
Connie Connally paints stunning canvases of complex elegance, with imagery that merges harmoniously and nearly completely both representational reference and powerful abstraction. Connally's poetic colorscapes, with their expressive brushwork, sweeping gestural marks and animated cadence, reflect the artist's passion for distilling the essence of her observations of nature and situate her work as the vital interplay between memory and imagination. Her palette of organic color and calligraphic brushstroke combine to serve as imprint of the artist's profound love of being in nature and the desire that her painting reflect both her exterior and interior experience of it.
Connally finds inspiration in the natural coastlines and verdure of California where she lives and works. Her work has been exhibited extensively across the United States and is included in museum and private collections internationally including The Grace Museum, Longview Museum of Fine Art, The Art Museum of South Texas and Southern Methodist University.
Museum Collections
Longview Museum of Fine Arts, Longview, TX
The Art Museum of South Texas, Corpus Christi, TX
The Grace Museum, Abilene, TX
Education
M.F.A. 2004 Southern Methodist University
B.F.A. 1975 Wichita State University (magna cum laude)
1970-73 Oklahoma University
Professional Experience
2004/2005 Adjunct Professor of Art, Brookhaven College, DCCCD, Dallas, TX
Painting I, II, Advanced Painting III
2002/2004 Teaching Assistant, Southern Methodist University, Spring 2003,
Fall/Spring 2004, Printmaking, Laurence Scholder, Professor of Printmaking
Teaching Assistant, Southern Methodist University, Fall 2004,
Advanced Painting, Spring 2004, Beginning Painting, Mary Vernon,
Associate Professor of Drawing and Painting
2000/2002 Adjunct Professor of Art, Brookhaven College, DCCCD, Dallas, TX
1993 Adjunct Professor of Art, Brookhaven College, DCCCD, Dallas, TX
1988/89 Adjunct Professor of Art, East Texas State University, Commerce, TX
2002 Guest Artist, Drawing Seminar, May Semester, Brookhaven College, DCCCD, Dallas, TX
2013 Honorable Mention Award-"Small Images"- Atkinson Gallery, SBCC, Santa Barbara, CA
2012 Art Council Award-"Lift 2012"-Westmont Ridley-Tree Museum of Art
Juror's Award-"Small Images"- Atkinson Gallery, SBCC, Santa Barbara, CA
2004 Katerine Rigsby Dougan Graduate Scholarship, Southern Methodist University
2003 Best Portrait Artist in Dallas, "Best of Dallas Awards," Dallas Observer
Meadows Graduate Council Grant, Southern Methodist University
2002 Full Scholarship, Meadows School of the Arts Master's Program, Southern Methodist University
2001 Juror's Award, "Biennial Juried Exhibition," McKinney Avenue Contemporary
Artwork of Distinction Award, "Ulrich Alumni Exhibition," Ulrich Museum of Art
Hawn Foundation Award, "2001 Art in the Metroplex," Texas Christian University
2000 Juror's Award, "Seventeenth Annual Open Exhibition," Visual Arts Alliance, Houston, TX