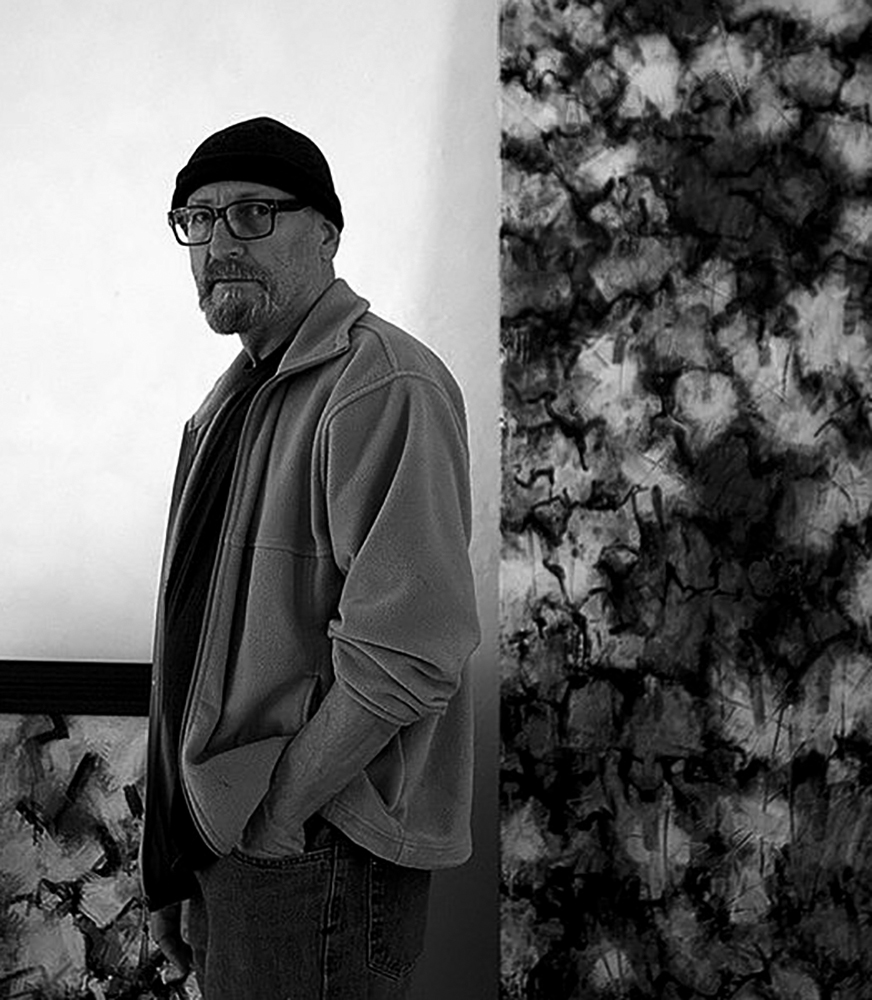 Shop Artist's Full Portfolio
I've been an abstract / landscape painter for as long as I recall – making some of my first paintings when I was a teenager. Studying and working in art restoration and conservation – my studio was divided between these two crafts. I spent a lot of time under the magnifying glasses looking at the worlds of the painters work that I specialized in – namely the California tonalists and realists of the late nineteenth and early twentieth century's – in an effort to better understand their process and techniques – seeing their paintings in a micro / macro way.
Painting is my way of working through this process of thought – a connection to history, my humanity. For me it's a language; each mark, color and passage a letter in a personal alphabet, each painting a word in a sentence, all adding up to a story. A chronicle that has meaning with a beginning and an end. A testament to what I know, understand – and especially what I don't. The answers for me are in the doing not in the done – in the seeing – the bridges and the echoes of time – the space between the micro – macro, and in the search to understand the questions that can never be completely answered.
BIO: Born: April 21, 1945, Silver Lake District, Los Angeles, California
Lives and Works in New York, New York and Albuquerque, New Mexico.
Solo Exhibitions:
2015 Triton Museum of Art, Abstractions. Bridges and Echo's. Santa Clara, CA.
2013 Hartnell College Art Gallery, Along The Way selections from
'Natural Occurrence' series and The White Paintings.
2011 Patricia Rovzar Gallery, Paintings Seattle, WA
2010 U.S Embassy, Kathmandu, Napal
2009 Elenor D. Wilson Museum of Art, Hollins University, Boulevards
Roanoak, VA
2008 Patricia Rovzar Gallery, Recent Paintings, Seattle, WA
2007 The Grace Museum, Earth + Sky, Abilene, TX
2007 Caldwell / Snyder Gallery, Recent Paintings, Saint Helena, CA
2007 Caldwell / Snyder Gallery, Recent Paintings, San Francisco, CA
2007 Trajan Gallery, Recent Paintings Carmel, CA
2007 Wiregrass Museum of Art, Imagined Journey's, Dothan, AL
2007 Dubuque Museum of Art, Cityscapes Dubuque, IA
2006 Patricia Rovzar Gallery, Seattle, WA
2006 Campton Gallery, New York, NY
2006 Trajan Gallery, Recent Paintings Carmel, CA
2006 Monterey Museum of Art, Monterey Now, Monterey CA
2006 Museum of the Southwest, Mythical Landscapes, Midland, TX
2005 Campton Gallery, Recent Paintings, New York, NY
2005 Anderson Fine Art Center, Boulevards, Anderson, IN
2004 Caldwell / Snyder Gallery, New York, NY
2003 Trajan Gallery, Carmel, CA
2003 Patricia Rovzar Gallery, Kirkland, WA
2002 Caldwell / Snyder Gallery, New York, NY
2002 Caldwell/Snyder Gallery, San Francisco,CA
2001 Caldwell/Snyder Gallery, New York, NY
2001 Patricia Rovzar Gallery, Kirkland, WA
2000 Caldwell/Snyder Gallery, San Francisco,CA
1999 Nelson/Rovzar Gallery, Kirkland,WA
1998 Robert Aichele Gallery, Menlo Park, CA
1997 Tamara Bane Gallery, Beverly Hills, CA
1997 Emmie Smock Gallery, San Francisco, CA
1996 Lisa Parker Fine Art, New York, NY
1995 Monterey Museum of Art, Monterey, CA
1994 Shaklee Corp Gallery, San Francisco,CA
1993 Monterey Conference Center, Monterey, CA
1993 Bank of America World Headquarters Gallery,
San Francisco, CA
1990 Claypoole-Freese Gallery, Pacific Grove, CA
1989 Pacific Grove Art Center, Pacific Grove, CA
1989 Shaklee Corp Gallery, San Francisco, CA
1986 PDA Gallery, Carmel, CA
1985 Site 311 Gallery, Pacific Grove, CA
1984 Ankrum Gallery, Los Angeles, CA
1984 Maple Gallery, San Diego, CA
1983 Monterey Museum of Art, Monterey, CA
1983 Pacific Grove Art Center, Pacific Grove, CA
1982 San Jose Museum of Art, San Jose, CA
1981 Maple Gallery, San Diego, CA
1981 Rubicon Gallery, Los Altos, CA
1981 Collectors Gallery, Pacific Grove, CA