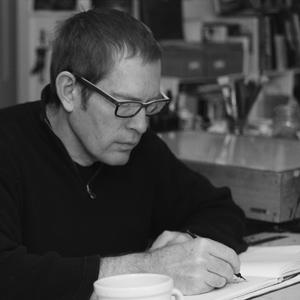 Shop Artist's Full Portfolio
During my career as a humorous illustrator, I always found the time to pursue personal watercolors. I used them as a place to explore pigments, their reactions with one another and the use of different substrates. For this reason, I kept the compositions quite simple, letting the color do the talking. As I transitioned out of my illustration career and into semi-retirement, I had a lot more time to devote to watercolors. I still kept my morning sketchbook routine, but those drawings now became studies for watercolors. Every afternoon I pick out a sketch to expound upon with a watercolor. I believe in the power of routine, and through daily practice, a rhythm is established. Sometimes I'm on, other times not so much. On some days, better choices are made. In the back of my mind is a line that an artist friend once told me: You have to be prepared to make a bad painting to make a good one.
To be honest, there is not a lot of philosophical hokum behind these paintings. They all started out as drawings in my sketchbooks in which I have been drawing in earnest since 1973. At present I have completed enough of them to fill the trunk of a luxury automobile and am working on filling a small U-Haul. I try to set aside an hour every morning to draw for myself, to brainstorm with pen on paper. I seldom start drawing with preconceived notions and I never know where it will take me. I bring a free ranging intellect to the process. That, and considerable enthusiasm.
From these sessions, concepts for paintings emerge; ideas are formed by my love of petroglyphs of the Southwest, outsider and self-taught artists, sideshow banners, vintage cartoons and comics and automatic drawing. What holds these influences together is a certain off-kilter sensibility that I am told goes back many generations in my family history.
Humorous Illustrator Hal Mayforth was born and raised in Vermont. He was lucky to have graduated from Skidmore College with a degree in Fine Art because he spent most of his 4 years playing rock and roll in bars. He started his illustration career in Boston, returned to Vermont where he and his wife raised three sons, and then, like a yo-yo, returned to the Boston area. Hal has been the recipient of many awards and honors, including a swimming award at Camp Abnaki in the early '60's. In addition to drawing little guys with big eyes and big noses for money, he is also serious about drawing in his sketchbooks every morning and fashioning those drawings into paintings. His illustration clients include: Time, Newsweek, U.S. News and World Report, The Wall Street Journal, Outside, Sports Illustrated, Coke, Pepsi, IBM, HBO, Chase, and Bell Atlantic.