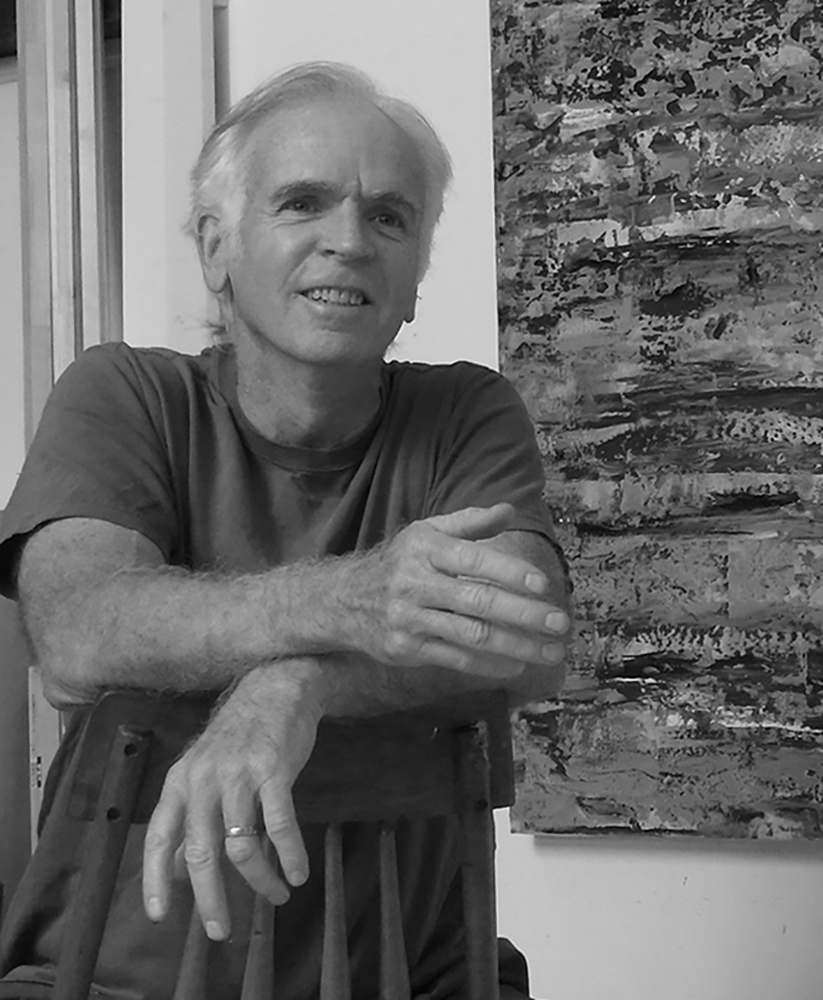 Shop Artist's Full Portfolio
David Skillicorn, based in New York and Massachusetts, has been creating luminous abstract paintings for over twenty years. He explores complex spatial and color relationships through the use of texture, organic line, and sensuous fields of color. In his Della Terra paintings, he often mixes in elements of the physical landscape directly into the paint — sand, stone dust, field grasses, bits of flora — infusing the work with the presence of the natural world. In mixed media works on canvas, Skillicorn creates sophisticated, intuitive paintings alive with surface texture, lush paint of vibrant colors in bold strokes over atmospheric passages.
Skillicorn has exhibited nationally in a numerous of solo and juried group exhibitions, including at the Rose Museum at Brandeis University, the Tang Art Museum, the Attleboro Art Museum, Danforth Art Museum and Fitchburg Art Museum in Massachusetts. His paintings are part of numerous public and private collections throughout the country, including Johns Hopkins, Regent Hotel, Intel, Chase Bank and many others.
Exhibitions:
2020 Chase Young Gallery, Boston MA
​2020 Amy Simon Fine Art, Westport CT
2020 White Room Gallery, Bridgehampton NY
2020 Trove Gallery, Park City UT
2020 Jack Meier Gallery, Houston TX
​2020 Paul Mahder Gallery, Healdsburg CA
2020 Desta Gallery, San Anselmo CA
2020 Coastal Contemporary Gallery, Newport RI
2020 Paula Estey Gallery, Newburyport MA
2019 Chase Young Gallery, Boston MA
​2019 Fitchburg Art Museum, Fitchburg MA
2019 White Room Gallery, Bridgehampton NY
2019 Trove Gallery, Park City UT
2019 Art Market Hamptons, Bridgehampton NY
​2019 Paul Mahder Gallery, Healdsburg CA
2019 Desta Gallery, San Anselmo CA
2019 Art Aspen, Aspen CO
2019 Coastal Contemporary Gallery, Newport RI
2019 Diana Felber Gallery, West Stockbridge MA​
2019 Paula Estey Gallery, Newburyport MA
2019 Elusie Gallery, Easthampton MA
2018 Paul Mahder Gallery, Healdsburg CA
2018 Diana Felber Gallery, West Stockbridge MA
​2018 Coastal Contemporary Gallery, Newport RI
2018 Galatea Fine Art, Boston MA
2018 Paula Estey Gallery, Newburyport MA
​2018 Elusie Gallery, Easthampton MA
2017 Fitchburg Art Museum, Fitchburg MA
2017 Attleboro Art Museum, Attleboro MA
2017 Northampton Biennial, Northampton MA
2017 Paul Mahder Gallery, Healdsburg CA
2017 Diana Felber Gallery, West Stockbridge MA
2017 Sprinkler Factory Gallery, Worcester MA
2017 Burnett Gallery, Amherst MA
2016 Paul Mahder Gallery, Healdsburg CA
2016 Attleboro Art Museum, Attleboro MA
2016 Elusie Gallery, Easthampton MA
2016 Galatea Fine Art, Boston MA
2016 Hosmer Gallery, Northampton MA
2016 Greenfield Gallery, Greenfield MA
2016 Shea Theater Arts Center, Turners Falls MA
​2016 Saw Mill River Art Gallery, Montague MA
2016 Burnett Gallery, Amherst MA
2015 Galatea Fine Art, Boston MA
2015 Zullo Gallery, Medford MA
2015 Greenfield Gallery, Greenfield MA
2014 Pushkin Gallery, Greenfield MA
2014 Arts Block Gallery, Greenfield MA
2013 Pushkin Gallery, Greenfield MA
2013 Arts Block Gallery, Greenfield MA
2012 Unison Art Center Gallery, New Paltz NY
2012 Pushkin Gallery, Greenfield MA
2011 Pushkin Gallery, Greenfield MA
2011 Hosmer Gallery, Northampton MA
2011 Burnett Gallery, Amherst MA
2011 Arts Block Gallery, Greenfield MA
2010 Pushkin Gallery, Greenfield MA
2010 Arts Block Gallery, Greenfield MA
2009 Pushkin Gallery, Greenfield MA
Public Collections:
New York Pfizer Inc
​Temple University
Chase Bank
​Bell Atlantic
Adobe Systems
Northern Trust Bank
Dana Farber Cancer Center
Hewlett-Packard
Johns Hopkins
United Airlines
Morgan, Lewis and Bockius
Regent Hotel
The Austin Company
Intel
​Heller Financial Services
The Rubenstein Company
Lincoln Financial
Voyageur Capital
​
Publications:
6/2018 BOSTONVOYAGER MAGAZINE – (click for article)
12/2017 ARTSCOPE MAGAZINE – (click for review)
5/2017 ART NEW ENGLAND – (click for review)
6/2017 PREVIEW MAGAZINE – (click for article)
12/2016 STUDIO VISIT MAGAZINE – (click for article)
1/2017 Daily Hampshire Gazette – (click for article)
12/2015 THE WOVEN PRESS – (click for magazine)
9/2015 Greenfield Recorder – (click for article)
9/2015 INSPIRATIONAL – (click for article)
12/201 STUDIO VISIT MAGAZINE – (click for article)
​10/2011 PREVIEW MAGAZINE
10/2011 STUDIO VISIT MAGAZINE – (click for article)
​ 7/2011 NBC TV
1/2011 Daily Hampshire Gazette – (click for article)
12/2010 Amherst Bulletin – (click for article)
Artist Profile: David Skillicorn